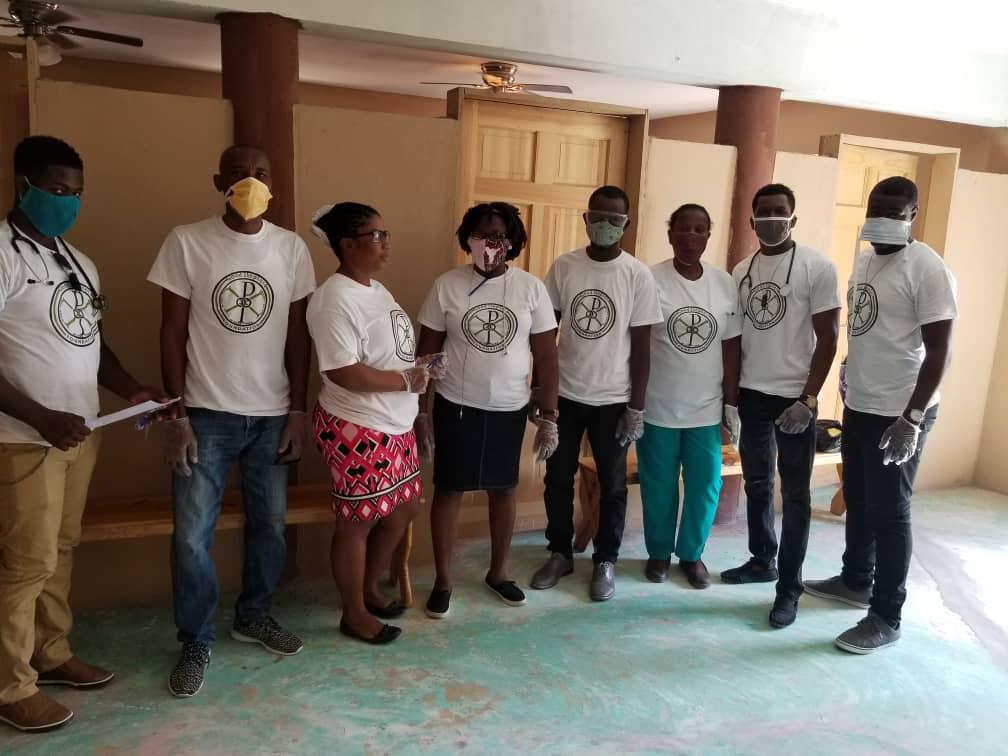 18 Oct

Honoring our Heroes – Celebrating 9 Years of Providing Medical Aid to Haitians

During 2020, our communities and families have been challenged with an unfathomable pandemic, one that has no boundaries and has reached almost every corner of the globe. Millions have been infected and hundreds of thousands of people have perished globally.

This pandemic is something most of us  have never experienced in our lifetime. However, there is a bright side as  many people have adapted and pulled together to get through this very confusing time. Our path to recovery is fortified by the dedication and commitment of our heroes — our essential workers who continue to work while many safely quarantine at home.

They are our nurses, our doctors, our postal workers, police officers, restaurant and retail staff, our military, and millions of others who go to work every day and continue to provide services so we can keep our communities up and running.

In Haiti at the Good Shepherd Foundation clinic, our medical staff have continued to make their way out to the community to serve our patients despite the pandemic. We can't even imagine the challenges they face during this time of political unrest, riots and other challenges that would have kept most of us from even attempting to drive to a clinic site to serve a remote community with medical care. Despite everything going on, our doctors, nurses and support staff have continued to visit the community to hold our monthly clinic.

"I'm always impressed with the initiative our staff shows in keeping to their clinic schedule," said Bruce Sharfstein, The Good Shepherd Foundation Treasurer. "During the Covid 19 lockdown in Haiti they had uniform shirts made indicating that they were essential workers so that they could move a bit more freely and safely to and from our clinic site. They also initiated an effort to provide the community with spigot equipped buckets and chlorine to facilitate handwashing opportunities during the pandemic," noted Sharfstein.

We need your help to provide more frequent care.

While cases of COVID-19 in Haiti remain relatively low, there is still a lack of basic medical care in many communities. Fortunately, the Good Shepherd Foundation staff has faithfully continued to treat our patients at our monthly clinic, despite many challenges.  "So many of our patients are in more serious condition than necessary because they have to wait for care for up to three weeks until our next clinic.  A twice a month clinic would enable us to catch these health concerns before they become more serious and potentially life-threatening,"  said Linda McGurn, Vice President of the Good Shepherd Foundation.

Here are some ways that you can make a difference with your donation.
$10 covers medical care for 1 person for 1 clinic visit
$50 covers the salary of 1 nurse for 1 clinic event
$85 covers the cost of 1 doctor for 1 clinic event
$900 covers the cost of 1 nurse for 1 clinic every 3 weeks for a year
$1500 covers the cost of 1 doctor for 1 clinic every 3 weeks for a year
$850 provides medications for an entire clinic event
Donate online via our website or send us a check. 
https://www.thegoodshepherdfoundation.org
If you prefer, you can mail your check to:
The Good Shepherd Foundation
1128 Royal Palm Beach Blvd – Suite 347
Royal Palm Beach, FL 33411
Telephone 886-805-1006 and speak to Linda McGurn,  if you have questions.