22 May

Providing Handwashing Buckets Can Help Save Lives
The Good Shepherd Foundation (TGSF) is working hard to help our community during these difficult times.
Imagine if you and your family could not wash your hands right now?  
More than ever, washing your hands is extremely important and can help prevent the spread of disease. The Good Shepherd Foundation and the local medical staff have found a simple, cost-effective way to help the local community wash their hands. Through the generosity of our donors, TGSF has been able to provide more than 100 handwashing buckets to our clinic patients and the surrounding community.
This includes a standard 5-gallon polyethylene bucket with a spigot inserted at the bottom. This way they can be propped up on something and used as a regular faucet. We also supply sodium hypochlorite (powdered pool chlorine). Adding a small amount of hypochlorite to a bucket of water, from almost any water source, can render it clean enough to use in handwashing. Additionally, we purchased uniforms for our trusted workers so they are easily identifiable and can move around the community to hold clinics and distribute buckets.
Help Us Provide More Handwashing Buckets for the Community
As you can imagine, during the COVID19 pandemic the demand for more buckets is growing in our Haitian community.  A donation of just 20 dollars buys one potentially lifesaving handwashing bucket. If you would like to donate one or more handwashing buckets, please click on our safe donation link on this page.
During this time, our team is praying for the safety and health of all families. Stay safe and thank you for all you do to help the Good Shepherd Foundation in our continued support to provide locally administered medical support at our clinic in Haiti.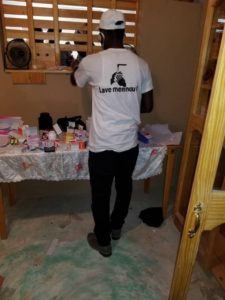 For more information about our organization or to donate directly, please contact Linda McGurn at [email protected]
Phone:  860.805.1006
Mailing address:
The Good Shepherd Foundation
1128 Royal Palm Beach Boulevard
Royal Palm Beach, FL 33411